Services and Programs
Brummitt Feasby ALS House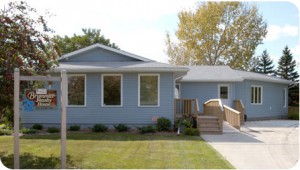 A home for persons living with ALS/MND, this house is the first and only one of its kind in North America.
The house was a gift to the ALS Society of Manitoba by Lynn Brown and Faith Johnston, whose stepmother Dorothy Brummitt died of ALS/MND. It was renovated in 2001 to specifically meet the needs of people with ALS/MND. The renovations of this house were done through donations of funds, materials and labour from generous Manitobans and Manitoba businesses.
The main floor plan features four wheelchair accessible bedrooms (each equipped with a ceiling track lift system, electric bed, armoire, night table, TV outlet, lift chair and Environmental Control Unit), a spacious kitchen/dining area, a sunroom, two accessible washrooms and shower room. The house also boasts a large deck overlooking Sturgeon Creek which can be enjoyed by clients, their friends and family.
The completely developed basement is accessible by stair lift, and has an additional bedroom, a sitting room and a bathroom.
Brummitt-Feasby ALS House offers the opportunity for shorter respite stays in addition to long term residency. A respite stay can be an overnight stay or longer depending on the needs of both the client and their caregiver.
Brummitt-Feasby ALS House
106 Kirby Drive
Winnipeg, MB
Phone: 204-888-7319
Fax: 204-895-4814
Email: brummittals@shaw.ca
Services Currently Available
The Brummitt Feasby ALS House is a home where persons living with ALS/MND realize their full potential in an environment that respects their rights and dignity. The ALS House provides twenty-four hour care, specialized treatments, administration of medications, meal preparation, housekeeping and laundry, recreation activities, arrangements for appointments and specialist services, ongoing assessment and intervention and a care plan designed to meet each individual's needs.
Additional services offered include massage therapy and foot care. In addition to these services we are able to bring in a hair dresser, musicians, esthetician for manicures etc. at clients request.
Application Process and Costs
Applications for residency or respite may be obtained by contacting, ALS Society of Manitoba at 204-831-1510.
Once applications are received at the ALS Society of Manitoba, they will be reviewed by a Review Committee. A daily per diem rate will be determined following acceptance of the application.
Children, Youth and Young Adult Programs
Part of the ALS Society of Manitoba's mission is to support the whole family, including children. It is important that supports are given to all age groups of families and therefore the Children's Program is an integral part of our services.
ALS Society of Manitoba provides education and opportunities for discussion for children of ALS/MND clients. There are also internet groups that can be facilitated, including website interaction at the ALS Canada's ALS411 Programs for Kids. This gives support to a broad range of age groups.
Other services that are available to children and their families are print material for all age groups, access to professional assistance, and the annual ALS Youth Retreat at beautiful Dallas Valley Ranch Camp, Regina, Saskatchewan for young adults. The ALS Society of Manitoba also has a Bursary Program for those that require financial assistance with any of these programs. For more information on the Bursary Program, including how to apply please contact the ALS Society of Manitoba office at 204-831-1510 or email hope@alsmb.ca.
Client Services Coordinators
ALS Society of Manitoba has Client Services Coordinators to assist individuals living with ALS/MND and their families. The Client Services Coordinators provides information and education about the nature and management of ALS/MND, as well as information regarding local and provincial health care services and social and community resources. The Client Services Coordinators may also provide an assessment of a client's ongoing needs and advocate with appropriate services as required such as home care, physicians, the ALS/MND Clinic Team and other services. When possible the Client Services Coordinators will conduct home visits with new referrals and maintain ongoing contact with current clients and families to ensure changing needs are addressed. The Client Services Coordinators will also provide bereavement support and assist families through the initial stages of the grieving process.
Emergency Response Information Kit (ERIK)
ALS Society of Manitoba has emergency response information kits available for all persons living with ALS/MND. The kit includes a health information form, and a health care directive form. Once completed, the kit can be placed on your refrigerator and provides information for emergency personnel to respond quickly to your situation. The kit is ideal for chronically ill persons, those who live alone or who have caregivers and others who have speech difficulties or communication barriers. To obtain a kit, please contact ALS Society of Manitoba office at 204-831-1510 or email hope@alsmb.ca.
Equipment Lending Program
Did you know that the ALS Society of Manitoba have over 2,450 pieces of equipment???
Our Equipment Lending Program is designed to help people cope with the daily challenges of decreased mobility and independence, by providing basic and essential assistive equipment, which includes mobility equipment, lift equipment, bathroom aids, etc. All equipment loaned is available at no charge to the families.
Questions regarding equipment to assist with daily living are common for people living with ALS/MND. Certain items can be very expensive and some require fitting. If you have been told that you require certain equipment and are currently registered with the provincial Home Care Program, check with them to see if the suggested equipment is available through their equipment pool, or if the Society for Manitobans with Disabilities is able to assist with this provision.
If you are unable to obtain equipment through any of these or any other agencies, the ALS Society of Manitoba may be able to help. Please call the Client Services Coordinators at 204-831-1510 or email hope@alsmb.ca.
Give a Boost Program
In partnership with Home Instead Senior Care, this is a year-round program that collects nutritional supplement drinks.
The Give a Boost Program asks people throughout the year to donate six-pack Boost, Ensure and other supplement drinks to help clients to get the nutrition they need. High-protein supplement drinks will be appreciated since this option is highly demanded from clients.
Any time is a good time to participate and give a boost to people living with ALS/MND!
Drop off locations
Home Instead West – 610 Sherbrook St
Home Instead East – 104-250 Marion Street
London Drugs – St. Vital Mall
The Medicine Shoppe Pharmacy – 1A – 660 Osborne St
ALS Society of Manitoba – 2A-1717 Dublin Ave
LVR (Breathing Bag) Program
In the early stages of ALS, clients may or may not have started to notice some changes in their breathing especially if they have a sedentary lifestyle. While ALS does not impair the lungs themselves, the muscles involved in breathing and coughing will become weaker over time and eventually result in respiratory failure. In some individuals, respiratory muscles may be affected late in the course of the disease (Limb onset or Non-Bulbar ALS); in others, these muscles are affected early in the disease process (Bulbar ALS).
Lung Volume Recruitment (LVR) is an effective way to increase cough capacity, lung capacity and help maintain respiratory health. It is a critical therapy for individuals with respiratory muscle weakness and limited cough capacity who are at risk for acute respiratory failure.
The LVR Bags are provided by the ALS Society of Manitoba at no cost to clients and will are given out by the Respiratory Therapist at the ALS/MND Clinic. The Respiratory Therapist will also be the one to provide the initial teaching to you and your family about the proper technique and use of the LVR Bag.
Resource Library
In addition to "A Manual for People Living with ALS", which is available to all persons living with ALS/MND, the ALS Society of Manitoba also maintains a lending library. The Society's library consists of books, videos and brochures about ALS/MND, individual experiences with the disease, coping with disabilities and grief. There are also a number of booklets on strategies for breathing, eating, drinking and swallowing as well as information on communication and mobility. To borrow materials, please contact ALS Society of Manitoba office at 204-831-1510 or email: HOPE@alsmb.ca.
Support Groups
Did you know that the ALS Society of Manitoba host support groups for Manitobans living with ALS/MND?
Support groups provide an open, friendly environment for clients, families and friends to learn more about living with ALS/MND. The group meets once a month throughout the year (except December).  Meetings may include a guest speaker or focus on specific topics, as well as informal discussion and refreshments.
For more information or to RSVP please call 204-831-1510 or email hope@alsmb.ca.
Tube Feeding Bag Program
When getting enough nutrition and fluids to meet your needs becomes difficult, a Percutaneous Endoscopic Gastrostomy (PEG) tube may be recommended to you. A PEG tube is sometimes referred to as a stomach feeding tube.
Some people initially use the tube only for maintaining adequate fluid intake while their meals remain the same. There are others who use tube feedings to supplement their daily intake either at the end of a meal or to replace one or two meals completely. Then there are those who switch from eating by mouth to total tube feeding.
In Manitoba the formula that you would consume through the PEG Tube is provided by the Manitoba Home Nutrition Program at no charge. The ALS Society of Manitoba would provide the tube feeding bags, different size syringes and any connectors if needed, plus other supplies at no charge to clients.
Volunteer Family Advocate Friend (VFAF) Program
The VFAF program is a program designed to match trained caregiver support volunteers to a person living with ALS/MND and their family members. These volunteers would provide practical assistance and advocate for the caregiving family, saving them time, energy and allowing them to focus on their relationships and major issues of care. As well, these volunteers might also help to mobilize other community resources, but would not provide direct patient care. It is anticipated that the volunteer would develop relationships with various members of the caregiving family and would provide support even after the death of the person living with ALS/MND.
***This program is being updated at this time***