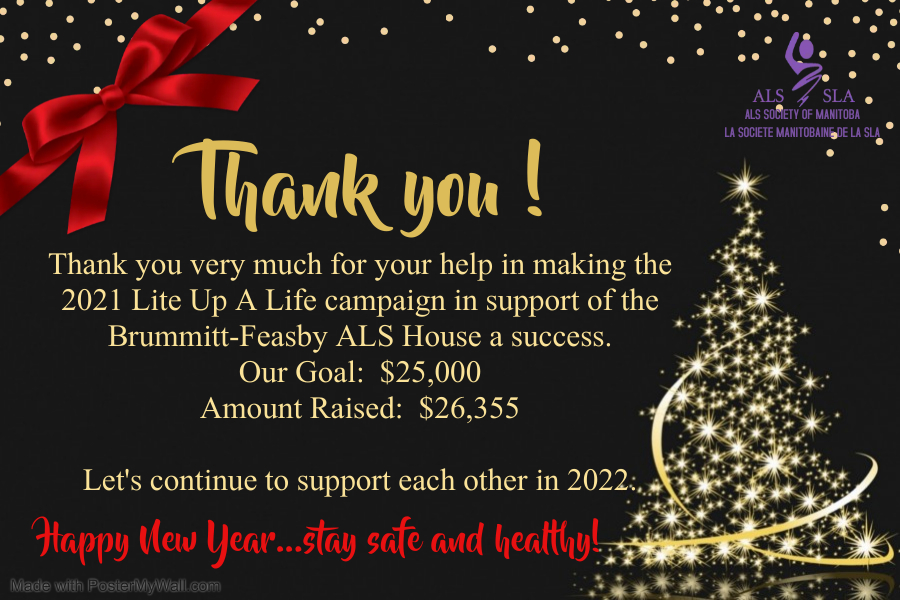 Learn more
A Reminder to Everyone
We take the safety of our clients and visitors as well as our staff members and residents very seriously.
Wearing a mask or face covering will be required at all times for all staff and visitors when inside the ALS Society of Manitoba offices and the Brummitt-Feasby ALS House.
The mask or face covering should cover your nose, mouth and chin, without gapping. Wearing a mask or face covering is an additional measure we can take to reduce the spread of COVID-19 and keep each other safe. We will have disposable masks available at both locations should you not have one to use.
Please either wash your hands or use sanitizer which is available at both our office and Brummitt Feasby ALS House.
Thank you for your cooperation in these difficult times.
Updated August 1, 2020
Our website is intended to offer comprehensive information about ALS/MND, about the ALS Society of Manitoba, information for people with ALS/MND and their caregivers, health care professionals, donors, media, and the general public. It is our hope that this site be a source of meaningful information, a site that connects people both from within and outside the ALS/MND community and a site that users visit regularly. Be sure to let us know if there is a way to improve this site, and make it more user friendly. We want to know! Call us at (204) 831-1510 or e-mail HOPE@alsmb.ca
ALS/MND News
This year marks the 82nd anniversary of one of the most famous speeches in baseball history. July 4, 1939 was the iconic moment at Yankees Stadium when Gehrig's speech shocked and inspired the world, as he told everyone about his diagnosis of ALS. Lou Gehrig's legendary words portray resilience and strength in the face of adversity. Today more than ever, we need to continue the fight against ALS. Let's work together to End ALS! Donate today.
ALS Canada Webinar Series: 2021 Update on ALS Clinical Trials  On June 15, 2020 at Noon EST (11:00 AM CST), join Dr. David Taylor, Vice President of Research at ALS Canada for a webinar where he will present the current landscape of ALS clinical trials, globally and in Canada.  He will also address questions around specific studies and clinical trials in general.  Register now to watch this valuable webinar.
ALS Canada Webinar Series:  2020 Update on ALS Clinical Trials.  On June 16, 2020 at Noon EST (11:00 AM CST), join Dr. David Taylor, Vice President of Research at ALS Canada for an upcoming webinar.  The focus will be the current state of clinical trials in Canada and Worldwide.  In this 1-hr session, you'll learn about:  Phase 3 ALS clinical trials currently underway; Promising Phase 2 ALS clinical trials; Select early stage ALS clinical trials; and Current and future processes of clinical trial development in Canada Don't miss the real-time Q&A session that follows to get answers to your ALS clinical trial questions. This webinar will be offered in English only. Register now.
ALS Canada Webinar Series: 2019 Update on ALS Clinical Trials. On June 20, 2019, ALS Canada's Vice President of Research, Dr. David Taylor, presented this webinar as he continues his update on ALS clinical trials. In this session, Dr. Taylor talked about the following topics: Specific experimental treatments currently in trial, How to get involved with clinical trials, and Alternative therapies for ALS.
June is ALS Awareness Month/ 2019 Flag Raising Ceremony. The 2019 ALS Flag Raising Ceremony was held on Tuesday June 4th, at City Hall, officially kicking off June, ALS Awareness Month. Deputy Mayor Marcus Chambers and Diana Rasmussen, Executive Director for ALS Society of Manitoba spoke at this symbolic ceremony, honouring people living with ALS and helping to spread awareness about programs and services available in Manitoba. Learn more
Can the key to slowing ALS progression be found in the immune cells of the brain? Learn more
Biogen to present new interim data from its phase 1/2 clinical study of Tofersen (BIIB067) for the potential treatment of a subtype of familial Amyotrophic Lateral Sclerosis (ALS). May 1, 2019. Read News Release.
Can antibodies help diagnosis ALS faster? Current methods for diagnosing ALS can take up to two years and rely heavily on ruling out other conditions that share similar signs and symptoms. It is believed that by the time ALS is diagnosed, therapies may be less effective as the damage to neurons is too extensive. Therefore, a better way of diagnosing ALS earlier is desperately needed. Learn more.
Pimozide for ALS: A Cross-Canada Clinical Trial Recruiting Now. A Phase 2 clinical trial is now recruiting at multiple sites across Canada to test whether treatment with a drug called pimozide slows the progression of ALS in humans. Learn more.
ALS Research Update | March 2019. Review the first 2019 ALS Research update, which summarizes the latest discoveries and advances in ALS/MND. The topics included in this update are: Researchers identify a potential new biomarker and drug target for ALS; How artificial intelligence is helping researchers to better understand ALS; Could a drug previously approved to treat hepatitis be successful in treating ALS?; Insights from the body's natural immune response open up new treatment avenues for ALS; and Positive results from preclinical studies of a gene therapy for ALS and FTD.
More NEWS
2019 Manitoba Caregiver Recognition Day
April 2, 2019. On the first Tuesday of April, Manitobans came together to recognize family members, friends, neighbours, and other significant people who take on a caring role to support someone with a diminishing physical ability, a debilitating cognitive condition or a chronic life-limiting illness. Known as Manitoba Caregiver Recognition Day, this special day encourages to pay tribute and recognize the valuable contribution of family caregivers to our lives and our community as a whole. Click here to read more.